Windows 10 Developers White Paper by Embarcadero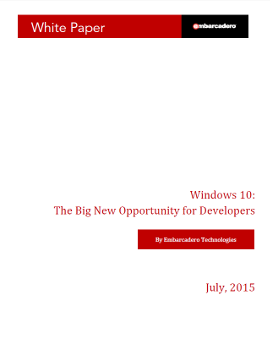 Embarcadero has released a white paper titled "Windows 10: The Big New Opportunity for Developers", explaining why Windows 10 matters and why RAD Studio is well positioned to serve the Windows 10 developer community.
You can find the white paper (after filling in your contact info) at  forms.embarcadero.com/15Q3DownloadWindows10Whitepaper
The white paper has the following sections:
What is Windows 10? What's new in Windows 10? Windows 10 and RAD Studio Project Centennial: bringing desktop apps to the Windows Store Getting ready for Windows 10
It has been written by an external (and independent) technical expert and includes a lot of background information and technical details. Worth reading for everyone moving or considering to move to Windows 10... which should be all of the Windows developers out there!
PS. Sign up for the webinar "Ride the Windows 10 Release Wave" on September 2nd, http://forms.embarcadero.com/RADFirstLookWebinar-2015-09-02, which will provide a preview of the features in the NEW VERSION OF RAD STUDIO to further enhance Windows 10 support... and not only, given the new release will include many other compelling features.
Check out more tips and tricks in this development video: