Adding alphabetical sorting with A-Z headers to your lists
Written by Sarina D.
Recently, I covered
key menu styles
that are used in mobile applications today. Drawer menus are very popular, as they allow you to take advantage of more screen real estate when building your app. The main application menu is hidden by default, and invoked by tapping on a menu item or swiping left/right. This type of UI can be seen in many popular mobile applications, including Facebook, Youtube and Gmail.
In this tutorial, I will cover the steps needed to create a navigation drawer for your Appmethod mobile apps.
Many thanks to Malcolm Groves who created the drawer sample that I am using and expanding for this blog post. You can download the project source from
his Github
repository.
This application consists of 2 layouts. One layout containing the drawer content, and one containing the main application content.
In this case, my left menu, the drawer menu, includes a top aligned toolbar with a parented label, and a client aligned Listbox with several menu items in it. The idea here is that the drawer menu contains all the main application navigation, including quick links to my account profile, app settings etc.
For demo purposes, I dropped a TListView component onto my form, parented it to
lytMain
and set its alignment property to alClient. I also placed a TPrototypeBindsource component onto my form to fill my TListview with some sample data. Right-clicking on the PrototypeBindSource component provides you with sample data that you can then easily bind into your Listview using the LiveBindings Designer. I also parented a TLine to lytMain to make the division between the main layout and navigation drawer more visible. You could also apply a style or use a separate background color.
If you double click on the Actionlist component on the form, you can see that we setup a custom action. We are leveraging that action for opening/closing the drawer when the user clicks on the drawer menu (three line) button or when they swipe across the main menu layout.
procedure TfrmMain.actOpenDrawerExecute(Sender: TObject);

begin

  DrawerVisible := not DrawerVisible;

end;



procedure TfrmMain.actOpenDrawerUpdate(Sender: TObject);

begin

  actOpenDrawer.Visible := not (IsPad and IsLandscape);

end;
On the form, we also placed the Gesture Manager component since we want the user to be able to swipe across the screen to show/hide the navigation drawer. In the project source, you will see that the touch gestures are setup for the toolbar parented to lytMain. In my demo, I removed the gesture that was setup on the toolbar and instead assigned the touch gesture to lytMain.
You can find the source code for this project in Malcolm Groves'
Github
repository. Below is a quick video that shows my running application.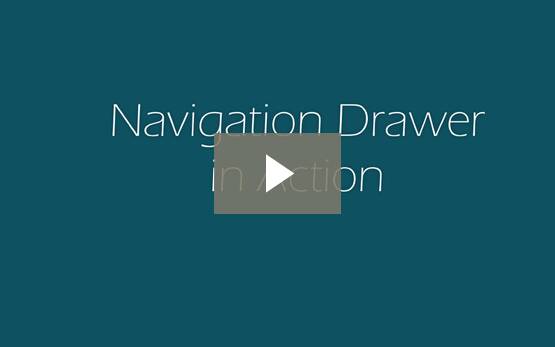 Check out more tips and tricks in this development video: