Tips for Faster SQL Queries and Identifying Issues
Finding the top offending statements for a specific workload can be hard if you are not using the best tool in your toolbox. On SQL Server 2012 and going forward you are able to leverage extended events which are included inside of SQL Server Manager Studio (SSMS) to build your first extended event to capture your workload.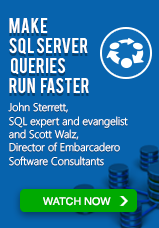 Read this article and watch the short video to see how you can use the new Extended Event tools to find your top offenders.
Who/When dropped or altered an object in my database?

What is the growth pattern of my database?

Who/When/How configuration settings were changed?
You may also be interested in Make SQL Queries Run Faster, an on demand webinar by SQL expert John Sterrett. You will learn some T-SQL performance tuning tips from a DBA who has a developer background.
Learn more about Embarcadero® Rapid SQL®, the intelligent IDE for SQL development, and try Rapid SQL for free.
Tags: Rapid SQL SQL Development SQL Performance