DBArtisan and Rapid SQL 2016 are here! - Join the Revolution!
Written by Embarcadero USA on Posted in Database Administration
DBArtisan and Rapid SQL 2016 are here! -- Join the Revolution!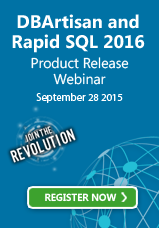 DBArtisan & Rapid SQL 2016 are available today with a new, collaborative, team-connected environment and a revolutionary new performance solution called Performance IQ that you must see.
Put an end to siloed database development and administration
Historically, DBAs and developers have worked in highly siloed environments which don't facilitate shared knowledge and resources. With new DB Team Server in DBArtisan and Rapid SQL 2016, you get the shared resources, analytics communication and collaboration links that have been completely in database tools - an industry first!
Introducing Performance IQ
Other DBMS performance products provide comprehensive metrics on database performance. However simply showing metrics is no longer good enough. NEW Performance IQ provides a deep investigative probe into the underlying causes of the performance degradation and visually highlights the root causes. Alerts and hints are integrated seamlessly across DB Artisan and Rapid SQL features that you already use.
Join the Revolution and Get Started Today
Key Enhancements for DBArtisan and Rapid SQL 2016 with Performance IQ:
Embedded Performance Metrics & Analytics
SQL Analytics
24/7 Wait-based Monitoring & Alerting
Streamlined Communication and Knowledge Sharing with DB Team Server
Register for the launch webinar on Monday, 28 September 2015 
08:00 San Francisco | 11:00 New York | 16:00 London | 17:00 Berlin | 18:00 Istanbul
to learn more and see the new features for this release!

Embarcadero Technologies' DB PowerStudio and ER/Studio are industry-leading database management and modeling tool suites that help thousands of organizations and database professionals effectively manage their data across the entire ecosystem, from modeling and management to development and optimization.